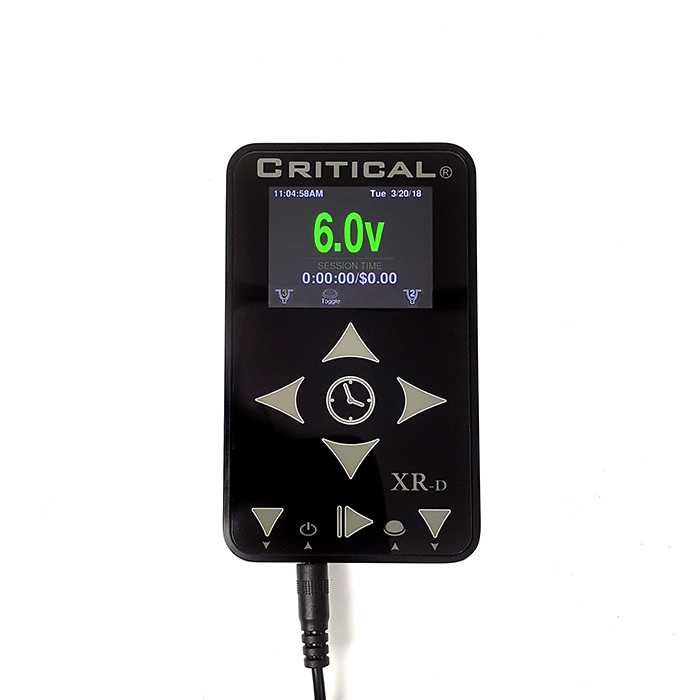 Powers & Accs
XR-D Power Supply by Critical Tattoo®
XR-D Power Supply by Critical Tattoo®
Critical Tattoo strives to provide tattoo artists with American-made products that are innovative, elegant, and above-all satisfactory.
Maintaining the favored qualities of former Critical Tattoo® Power Supplies, the Critical Tattoo® XR-D Power Supply offers all-new, revolutionized features for an even more optimal tattooing experience. Enjoy a newly designed, easy-to-read, full-color display screen with the option to select your preferred color scheme. Artists can also enjoy a touch user interface — adjusting the voltage, selecting presets, and all other configurations only requires the lightest touch. This power supply also has a precision regulated set point voltage ranging from 0 up to 18V DC.
The XR-D Power Supply comes with high-quality am-phenol 1/4" jacks, allowing for the most steady power delivery; it is compatible with both standard RCA cords and foot pedals if desired (although a foot pedal is not required to operate, as this power supply has a pedal override mode). It has two foot pedal modes — maintained and momentary — as well as a jumpstart mode for hard starting tattoo machines. The Critical XR-D Power Supply is compatible with all coil and rotary machines. Unlike the XR model, the XR-D offers dual outputs, allowing artists to operate two machines at once.
Another new feature of this power supply includes the magnetic mounting system. This mounting system, which is included with your purchase, can be rotated into one of 4 different positions for a totally configurable setup. This power supply must be mounted before tattoo procedures; Critical Tattoo® deliberately created this mounted design for ultimate flexibility; it also ensures the power supply can be easily bagged with standard machine or bottle baggies, allowing for optimal protection against cross contamination.
Specifications:
Precision Regulated Set Point Voltage: 0–18V DC

Compatible with all coil and rotary machines

Easy-to-read, full-color TFT display; configurable color scheme

Convenient touch user interface

Non-volatile memory ensures voltage presets are maintained even when power is removed

Assign jumpstart feature/maintained pedal modes to preset/output buttons

0.1volt adjustment resolution

Oscilloscope function displays cycle time

Two foot pedal modes — maintained or momentary

Universal input (90–240AC 50/60Hz)

Output Voltage: 18v 36W

Dual outputs allow for two machines to operate at once

High-quality am-phenol 1/4" jacks for durability and high power delivery

Compatible with standard clip cords and foot pedals (foot pedal not required to run)

Hybrid billing mode allows automated user inputs

Peak Current: 4 amp

Continuous Current: 2 amp

CNC-machine billet aluminum housing

Equipped with magnetic mounting system for configurable set-up

Automatically powers down after 15 minutes of inactivity

Built-in short circuit protection

Comes with C5 type Mickey Mouse plug, magnet mounting system, and switching power adapter

Manufactured in the USA